I was editing my blog recently so that the most recent posts of all the blogs I'm following would show just below their blog names. I was floored to find out that I'm following a whopping 412 blogs in blogger's blog list widget alone. These are all listed on my right side bar.

This may or may not include all the blogs I subscribe to via email, or the ones I have subscribe to in various readers. I figure between all the blog following sources I have signed up for, I'm keeping track of well over 1,500 blogs! WOWIE WOW WOW! Am I an addict or what?!?


My name is Angela, and I'm a Blogoholic!
So many people have commented on my posts, stating how inspirational my words were to them or how they really needed to hear what I had to say. After seeing how many people I am following, as well as those who follow me, it hit me! Why not create a place dedicated to all those who inspire others, as well as a place where those needing a bit of inspiration can go to find it?
I absolutely love reading about other peoples lives -- their experiences, their opinions, their trials, their victories! I simply cannot get enough!
In my comments, I love to inspire those who seem to need a bit of hope in their lives, offering empathy and advice to those who seek it.
Does this make me a nosey busy body? Maybe so . . . I don't know.
What I do know, however, is that I have met some extremely inspirational people in the blogging realm, and I have met quite a few that I have inspired with my stories, as well. For this, I am thankful!
So, I will continue to seek out and follow blogs to which I can relate, or those bloggers who I feel I can inspire in one way or another. So many people have left their footprints in my heart, and have affected my life tremendously with their selfless acts of kindness.
Blogging is my way of making my mark, and making this world a better place. By sharing the trials I have overcome, my humor, my inspiring stories, and receiving positive feedback from my blogging friends, I realize that my mission is being carried out.
I am "Blogging it Forward!" Are you?
Do you write to inspire others with your story?
Does it make your heart smile to know you have affected someone's life in a positive way?
Do you want more traffic to your blog from others seeking inspiration?
Do you want to make a positive difference in this world?
Copy and Paste this button's code into your blog's sidebar
Comment here to let me know you are participating

Sign up on Mister Linky
Help spread the word by commenting on the inspirational blogs you read, urging the blog' owners to particapte, as well. :o)
Twitter this:

OR
Attention Bloggers! Do you want to inspire the world? Sign up here:
http://tiny.cc/BlogItForward541
and join us to #BlogitForward!
Post on Facebook
Digg it
Stumble it

Post it everywhere you can



One person

can
make a difference! Each person signed up will inspire all their readers who, in turn, will inspire their own. The domino effect will make these inspirational accounts spread like wildfire! As a result, the selfless acts of kindness and inspiration, and the greater good principle will outshine the bad, therefore making this world a better place in which to reside.
Award Your Friends!
If you would like to award someone who has an inspirational blog, please follow the directions below:


Comment on their blog to let them know you have nominated them.
Add their Blog Name and Link in the Mister Linky Gadget.
Congratulations on your award! Now here is what you must do to Blog it Forward!


Write a post about your new award, linking to the person who awarded it to you.
Award 10 more bloggers who inspire you, and link to them in your post.

Comment on their blog, directing the blog owner to this post, so they may copy the code and display it on their side bar. Here is the link:

http://tiny.cc/BlogItForward541
Your blog name and link should have been listed in Mister Linky by the person who nominated you.

Comment here once you have done all of this so we can read your inspirational nominees' blogs.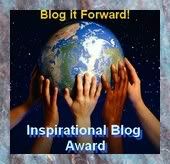 Powered by... Mister Linky's Magical Widgets.